GIANT MANGO PIE
In 2011, Mayfair Bakeshop baked a  100 square meter mango pie setting the world record for the largest mango pie in the world
By the help of City Government of San Carlos. With the support of his brother Vice Mayor Joserez Resuello, other city officials and barangay leaders. It's weighing 2 tons.
Residents of 86 villages in San Carlos City, Pangasinan took part in making a 100-square-meter mango pie. It was  big enough to fill a gymnasium – which sets the world record for the Largest Mango Pie.A chef tries to work with the largest mango pie in the city of San Carlos, Pangasinan province, Northern Philippines.
A total of 400 pieces of mango pie, each weighing 10 kilos with a total cost of 400,000 Philippine Peso (about 60463 RMB). It was  displayed in a 100-square-meter table and shared by more than 1,200 residents in the city of San Carlos.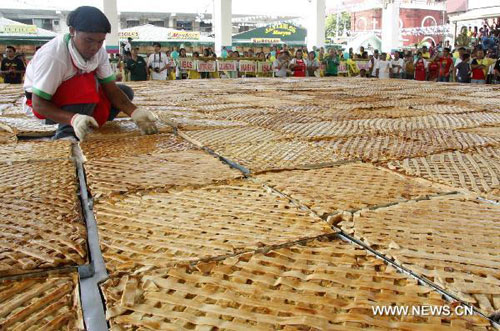 Photo: Xinhua/Roel Zaragozaessay writerscustom-essayscustom essays